Safeguard Children with Protective Surfaces
Our sustainable products not only look out for the planet but for our children as well. Whether a play area needs mulch, a poured-in-place surface made of crumb rubber or a product like a swing mat, our shock-absorbing products protect the little ones in our lives. Regular third-party certification of the rigorous standards set by ASTM and IPEMA prove our commercial and retail products are safe and prevent injuries.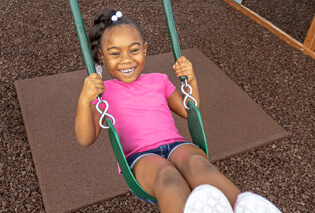 Loose Fill Mulch with Rubber Timbers and Swing Mats
Our rubber nugget mulch's fall height rating of 16 feet can't be beat when compared to other loose fill on playgrounds, achieving a rating three times that of sand and twice that of wood mulch when the material is six inches deep. A product's fall height rating measures how far someone can fall without sustaining a potential life-threatening head injury, so the higher the number, the better. When nugget mulch is combined with our border system and swing mats, you have a playground setting designed specifically for children's spirited fun. Rubber's ability to absorb high amounts of impact help prevent potential injuries, and rubber's inherent durability helps these products last a long time with little maintenance.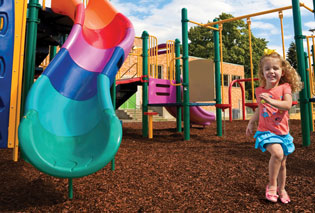 Poured-in-place
Popular for playgrounds, recycled nugget mulch combined with a polymer and top coat of EPDM rubber creates a smooth surface called poured-in-place (PIP). This nonslip, ADA-compliant surface is also widely used to create outdoor basketball courts, walking trails and other sports surfaces since it can last up to 12 years, is crack-resistant, absorbs shock well and is highly permeable to prevent water from pooling. Alternatively, for use in splash pads, a waterproof sealant can be applied as a topcoat so water flow can be specifically controlled. Plus, for all poured-in-place applications, you can choose customized colors for your venue, giving you and your customers a great deal of control over the appearance.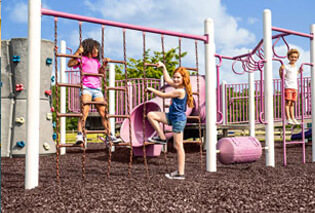 Bonded Mulch Surface
Bonded rubber mulch has the look of loose fill nugget mulch but the smoothness and padded feel of a poured-in-place rubber surface. Our bonded rubber mulch is ASTM 1292 certified, with a fall height rating of 16 feet, and is ADA-compliant like PIP. For added benefit, installers can mold bonded mulch on uneven surfaces and inclines, making it a helpful solution for challenging situations where loose fill or PIP may not be the most practical options.
Sustainable Products Used
Costs Less, Better for the Environment
16 feet
Is the certified fall height rating of our rubber nugget mulch, meaning it reduces the risk of serious injury for falls up to that point
3x fall ht rating
Offered by our rubber nugget mulch over sand when materials have a depth of six inches
2x fall ht rating
Offered by our rubber nugget mulch over wood mulch when materials are six inches deep
Research Studies
Explore up-to-date news and research about environmental and personal safety.
Talk to an expert to find out which safe playground surface is best for you