Slip-Resistant, Supportive and Sturdy
Safeguard your animals' wellbeing with recycled rubber surfacing or pavers. These durable floorings offer enhanced cushioning due to rubber's incredible shock-absorbing nature, as well as being slip-resistant when dry and wet. Rubber surfacing is an alternative that is ideal for barns, wash racks, and breezeways, and our products are sustainable since they're made from recycled tires.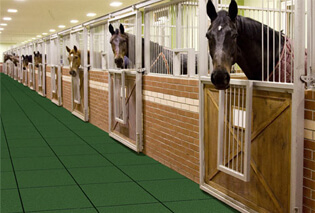 Pavers and Mats
Using rubber pavers or mats in stalls, large animal vet clinics or covered livestock facilities areas can protect your livestock's joints by providing them with more support and a floor that excels at absorbing shock. Rubber affords more friction than concrete, for example, especially if a horse is wearing horseshoes. This adds an additional layer of safety since our pavers and mats are much more slip-resistant than traditional flooring materials. Outside of performance, modern rubber pavers are less than one-sixth the weight of older padded materials, which gives pavers a cost advantage with transportation and fuel expenses, as well as manual labor.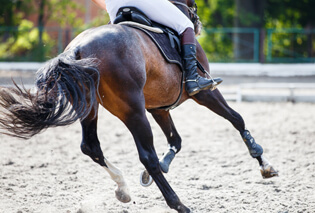 Infill
Some horse owners rely on crumb rubber—consistent, shredded pieces of rubber—for arenas to provide more cushioning and a softer surface. Crumb rubber is customizable and incredibly versatile, and we can recommend the best size and amount based on your needs. For instance, crumb rubber less than one-half inch in size can be mixed with sand to create a final blend that is softer on a horse's feet and provides a softer landing for falls. Plus, crumb rubber doesn't absorb water, so it drains easily and dries out quickly.
Sustainable Products Used
Costs Less, Better for the Environment
4,474,000 square feet
Are now protected by our nonslip pavers that we made last year
1 MIL Pounds
of crumb rubber are produced annually for equestrian training areas
Research Studies
Explore up-to-date news and research about environmental and personal safety.
Reach out to one of our agriculture experts to find the right recycled rubber product for your needs