The Gold Standard in Recycled Rubber Products
Rubberific, is the retail brand that started it all. Known throughout North America as the brand that has consistently delivered quality, value and innovation for decades.
More than 20 years ago the Rubberific brand was brought to market as a recycled rubber mulch. This realistically textured groundcover is made from 100% recycled rubber that looks just like wood mulch but will not fade, rot, compress or lose its original beauty, even after years of exposure to the elements. Rubberific Mulch saves homeowners time and money and is one of the safest playground coverings available.
As time progressed and the consumer need for additional landscaping and playground products made from 100% recycled rubber grew, the brand began to extend its product line.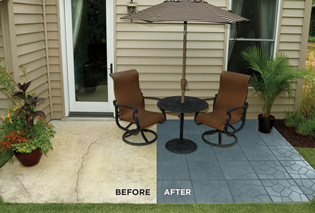 Pavers
Bring new life to old patios, decks and floors with our full line of Rubberific Pavers. If you are looking for flexibility in design, choose our dual-sided 16-inch reversible pavers with a brick pattern on one side and an architectural pattern on the other. Rubberific Pavers will give any backyard space a clean and professional look.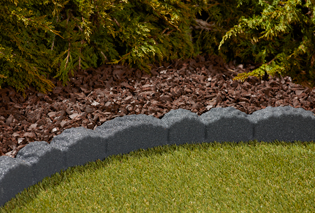 Landscape Edging
Look no further than Rubberific Landscape Edging to make your landscape beautiful and your life easier. With the flexibility of rubber and the look of stone, these products are the perfect edging for flower beds, gardens, sidewalks, driveways or anywhere you want a clean and professional look.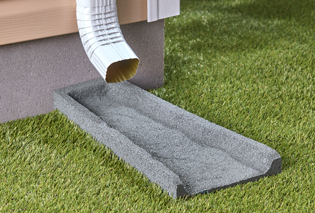 Splash Blocks
Rubberific Splash Blocks are light enough to move and sturdy enough to stay in place, even during the heaviest of storms. They are durable, functional and long-lasting, as well as being complimentary to our mulch colors.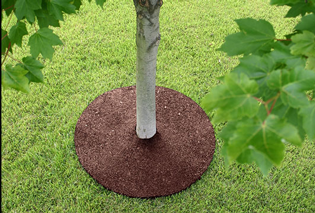 Tree Rings
Give your tree beds a well-maintained look 365 days a year. Rubberific Tree Rings are easy to install, eliminate yearly re-mulching and are manufactured with weed fabric for long-term weed prevention.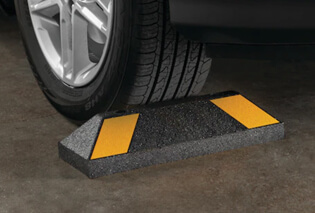 Parking Stop
Protect your auto and garage walls with the Rubberific Parking Stop. Velcro® Brand strips ensure the parking stop stays in place after easy installation, and the stops feature reflective yellow paint for increased night visibility.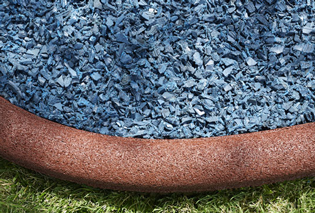 Playground Timbers
Rubberific Timbers are the best border system option for all your playground and commercial landscaping needs. These 92″ long timbers come in heights of 4", 6" or 8". With the flexibility of rubber, it can form virtually any edge desired. The top of the timber is slightly rounded to provide extra safety when used around a playground.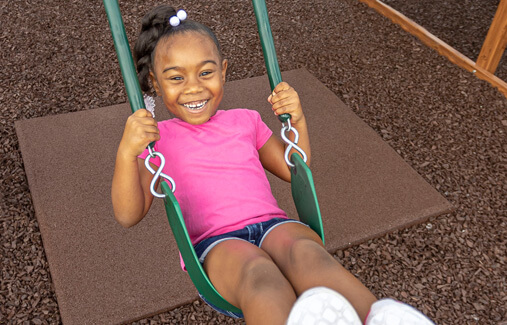 Playground Swing Mats
The longevity of our Rubberific Mats is second only to its versatility and functionality. Made from 100% recycled rubber, these durable 32" x 54" mats are two inches thick and feature a beveled edge for a clean and finished look. The primary use of these mats is below swings and slides in the playground where loose-fill mulch is typically kicked out by playful children. These mats stay in place, keep children safer and greatly reduce ongoing maintenance.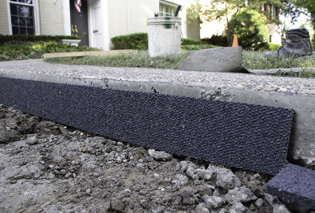 Expansion Joint
The Rubberific Expansion Joint is made from 100% post-consumer rubber. The majority of the rubber comes from old tires that you see littering the shoulders of highways and overflowing landfills. When using the Rubberific Expansion Joint in the construction of just one single-family residence, builders are able to consume the equivalent of 8.3 passenger car tires.
Product Certifications for Rubber Mulch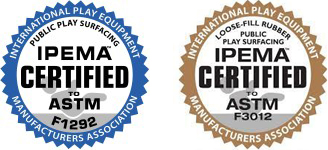 To view IPEMA certifications, visit www.ipema.org