Sturdy, Supportive Cushioning
Professional sports leagues and organizations, schools and government entities have used recycled rubber surfaces for more than a decade in artificial turf fields and even longer on playgrounds, tracks and trails.
Whether a ground surface needs the uniform granules of crumb rubber in turf or the smooth top of a poured-in-place track, recycled rubber is economical, fast-drying and is more forgiving on the body with its ability to absorb more impact than concrete or dirt. Even more, it reduces dust and mud, potentially eliminating it altogether depending on the setting. Recycled rubber also reduces freezing and is crack resistant. If a safe, durable surface is what you're looking for, recycled rubber delivers.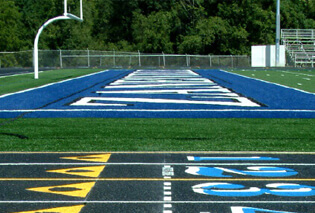 Turf
If you've watched a sporting event on artificial turf, you've already seen how crumb rubber cushions the impact of running or falls on athletes' bodies and can prevent injuries. Organizations also choose artificial turf—and crumb rubber as a filler—because it's low maintenance, dries quickly and has exceptional drainage. Plus, it doesn't require water to grow, which is an added benefit as certain regions see longer periods of extreme drought and reduced water supplies. Artificial turf can be installed in football and soccer fields, sports complexes, and other play or athletic settings. Furthermore, turf can be recycled and even incorporated into new turf in its next life.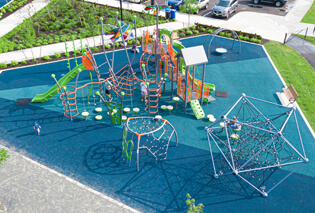 Sports and Play Surfaces
Beyond crumb rubber used as fill on artificial turf, recycled rubber can also be used as a poured-in-place or bonded mulch surface in commercial and retail landscape settings. These durable products are nonslip, which mitigates fall risks, and incredible at shock-absorption, which reduces the chance of serious injury. Outdoor basketball and tennis courts, tracks, walking trails and playgrounds frequently use recycled rubber for its safety and durability. Its pigment is also fade-resistant, and you can customize the surface color to showcase school spirit or blend in with the natural surroundings.
Sustainable Products Used
Economical and Eco-friendly
1/3 the cost
Of installing and maintaining a grass field over the same period
100 million
Tires are turned into crumb rubber each year by Liberty Tire Recycling
88,000 lbs
Of recycled rubber are used in a typical 8 lane track
Research Studies
Explore up-to-date news and research about environmental and personal safety.
Talk to an expert today to find out which proven surface is best for you