Create Gorgeous, Lasting Scenes
Homes, playgrounds and commercial buildings use recycled rubber to cultivate tidy landscapes with extra hidden benefits. From rubber mulch in flower beds to bonded rubber mulch and rubber pavers for surfaces, to tree rings and splash blocks – recycled rubber's durability, weight and permeability give it a sustainable advantage over traditional solutions since it requires less maintenance over time. Additionally, its nonslip and shock-absorbing characteristics make recycled products safer by reducing the risk of serious injury.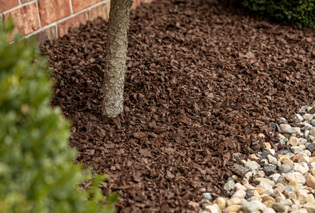 Loose-Fill Rubber Mulch
Loose-fill rubber mulch has many of the benefits of traditional mulch but with additional advantages: it's long-lasting and eliminates the need for annual mulching, it's heavier than wood mulch so heavy storms and winds don't lead to erosion or washouts, and it doesn't retain moisture, which allows all water to reach a plant's roots. Plus, it doesn't attract destructive insects like termites or carpenter ants, and it maintains its pleasing aesthetic for more than 12 years. Homeowners and businesses alike love using low-maintenance recycled rubber mulch to prevent weeds from growing and insulting the soil from extreme temperatures.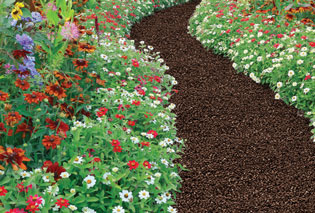 Bonded Rubber Mulch
Made of shredded rubber mulch together with a binding agent, bonded rubber mulch creates a smooth, nonslip surface that is ADA-compliant for commercial landscapes. Parks, playgrounds and trails utilize this soft, cushiony surface that absorbs impact well, whether you're walking, running or playing. Because it retains the shock-absorption of rubber, it is more impact-resistant and easier on joints than dirt, gravel or concrete. Even more impressive is that bonded mulch can be molded onto uneven surfaces and inclines, making it an option for even the most challenging spaces.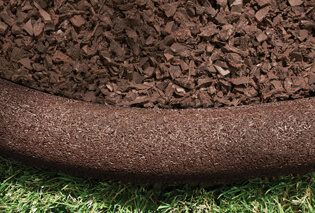 Landscaping on Hills
Rubber mulch weighs five times more than wood mulch, which helps it stay in place during intense rains or high-wind storms. This allows landscapers to mulch uneven surfaces without much fear of having to constantly replace or repair the yard after storms. People and businesses can have the beauty of mulch without the cyclical maintenance cycle.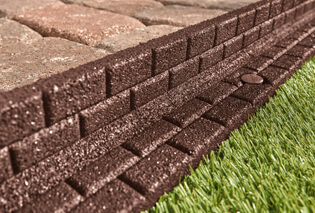 Sustainable Solutions
Rubber pavers and edging made of crumb rubber enhance the tidiness of an outdoor space. Rather than install stone, metal or concrete edging around flower beds or play areas, many homeowners and businesses opt for flexible rubber edging that gently curves and provides a pleasing visual. Everyone also loves that rubber borders are lighter to handle and easier to cut than alternatives. In the same vein, rubber pavers can create new patios, extend existing ones, or cover concrete to give a space an updated, sleek look easily and quickly. Both the edging and pavers are crack-resistant, durable and available in several colors.
Sustainable Products Used
5x heavier
Than traditional wood mulch so it's less likely to wash away
12x longer lasting
Than wood mulch on average, requiring less annual maintenance
80% savings
Versus wood mulch over 12 year period
2x per cubic ft
coverage compared to wood mulch
Research Studies
Explore up-to-date news and research about environmental and personal safety.
Talk with a landscaping expert today to answer your questions